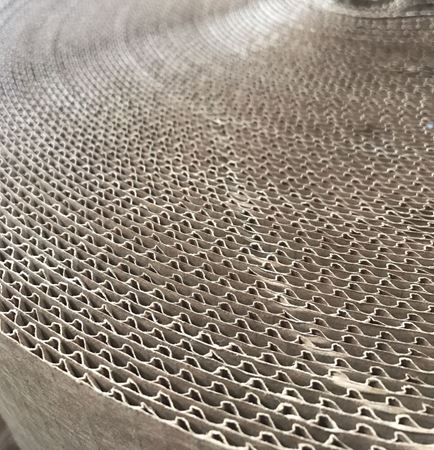 Currogated Cushioning Rolls
Corrugated Wrap Rolls will help protect your valuable shipments and more fragile products. Our singleface corrugated rolls are easy to use and offer flexibity to be used on any odd shaped items or frames. You can select from A Flute or B Flute.
A Flute - 1/4" Height and has strong stacking strength. Ideal for packaging fragile items.
B Flute - 1/8" Height with great crush resistance and puncture resistance. Ideal to be used for inner packaging.
Like the majority of our items we offer custom sizes and lengths for our corrugated rolls. Please contact us with any questions you may have and we would be more than happy to assist you!
Item
Number
Roll
Size
Flute
Type
Price per Roll
Add to
Cart
1
3
5+
98SF222
3" x 250'
B Flute
$10.00
$8.00
$7.00
98SF223
4" x 250'
B Flute
13.00
11.00
10.00
98SF233
6" x 250'
B Flute
21.00
18.00
16.00
98SF236
8" x 250'
B Flute
26.00
23.00
20.00
98SF224
10" x 250'
B Flute
38.00
33.00
29.00
98SF225
12" x 250'
B Flute
31.00
28.00
24.00
98SF237
12" x 250' Cohesive
B Flute
121.00
106.00
92.00
98SF226
18" x 250'
B Flute
54.00
47.00
41.00
98SF227
24" x 250'
B Flute
86.00
76.00
66.00
98SF228
24" x 250'
A Flute
86.00
75.00
65.00
98SF229
30" x 250'
B Flute
103.00
90.00
78.00
98SF230
36" x 250'
A Flute
111.00
97.00
84.00
98SF238
36" x 250'
B Flute
105.00
92.00
79.00
98SF231
48" x 250' 50/50
B Flute
114.00
100.00
87.00
98SF234
48" x 250' 70/70
A Flute
215.00
189.00
163.00
98SF232
60" x 250'
B Flute
146.00
129.00
111.00
98SF235
72" x 250'
B Flute
232.00
204.00
176.00