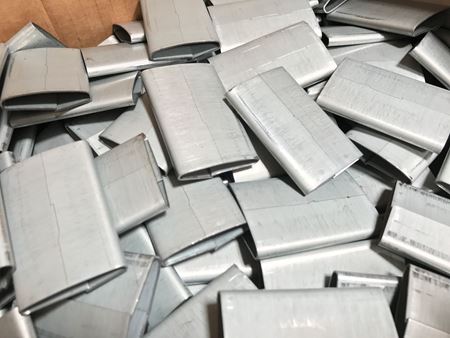 Regular Duty Steel Strapping Seals
MLR offers an extensive selection of both steel strapping and plastic strapping closures. The type of seal that you need is dependent on the size and weight of your packages or pallets. We offer both the seals and tools you need to create safe and reliable shipments.
Open - Galvanized open seals will help prevent rust, and are easy to use before or after using a tensioner. These are also known as snap on seals.
Closed (Pusher) - Closed strapping seals are used for irregular or round shaped packages.
Please contact us with any questions you may have, we are here to help!
5,000 Per Case
Item
Number
Size
Type
Length
Seals Per
Case
Weight
Price Per Case
Add to
Cart
MLR38O
3/8"
Open
1-1/8"
5000
25 lbs
$167.00
MLR38P
Pusher
1"
5000
40 lbs
189.00
MLR12O
1/2"
Open
1-1/8"
5000
35 lbs
128.00
MLR12P
Pusher
1"
5000
52 lbs
150.00
MLR58O
5/8"
Open
1-1/8"
5000
40 lbs
155.00
MLR58P
Pusher
1"
5000
62 lbs
180.00
MLR34O
3/4"
Open
1-1/8"
5000
50 lbs
185.00
MLR34P
Pusher
1"
5000
71 lbs
230.00
2,500 Per Case
Item
Number
Size
Type
Length
Seals Per
Case
Weight
Price Per Case
Add to
Cart
MLR38OB
3/8"
Open
1-1/8"
2500
12.5 lbs
$88.00
MLR38PB
Pusher
1"
2500
20 lbs
98.00
MLR12OB
1/2"
Open
1-1/8"
2500
18 lbs
75.00
MLR12PB
Pusher
1"
2500
26 lbs
85.00
MLR58OB
5/8"
Open
1-1/8"
2500
20 lbs
85.00
MLR58PB
Pusher
1"
2500
31 lbs
95.00
MLR34OB
3/4"
Open
1-1/8"
2500
25 lbs
95.00
MLR34PB
Pusher
1"
2500
35.5 lbs
125.00