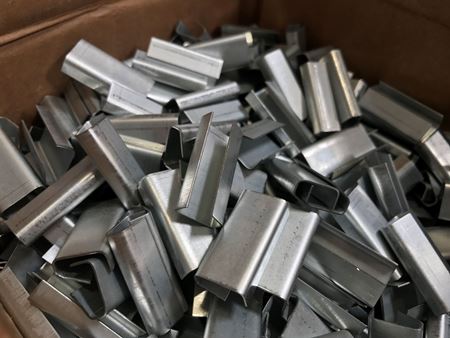 Plastic Strapping Seals
MLR offers an extensive selection of both steel strapping and plastic strapping closures. The type of seal that you need is dependent on the size and weight of your packages or pallets. We offer both the seals and tools you need to create safe and reliable shipments.
Use one of our special sealer tools to press these seals onto your plastic strap, forming a tight and secure package.
Please contact us with any questions you may have, we are here to help!
Item
Number
Size
Type
Length
Seals Per
Case
Weight
Price Per Case
Add to
Cart
OMS38
3/8"
Open
1-1/4"
1000
8 lbs
$70.00
OMS12
1/2"
Open
1-1/4"
1000
12 lbs
70.00
OMS12LD
Open
1-1/4"
1000
12 lbs
70.00
CLMS12
Closed
1-1/4"
1000
10 lbs
45.00
SMS12
Textured Open
1.187"
1000
13 lbs
167.00
OSS12
Textured Open
1-1/4"
1000
20 lbs
330.00
OMS58
5/8"
Open
1-1/4"
1000
12 lbs
75.00
OMS58LD
Open
1-1/4"
1000
12 lbs
75.00
CLMS58
Closed
1-1/4"
1000
16 lbs
98.00
SMS58
Textured Open
1.187"
1000
20 lbs
225.00
OMS34
3/4"
Open
1-1/4"
1000
16 lbs
95.00
SMS34HD
Textured Open
1.375"
1000
39 lbs
600.00