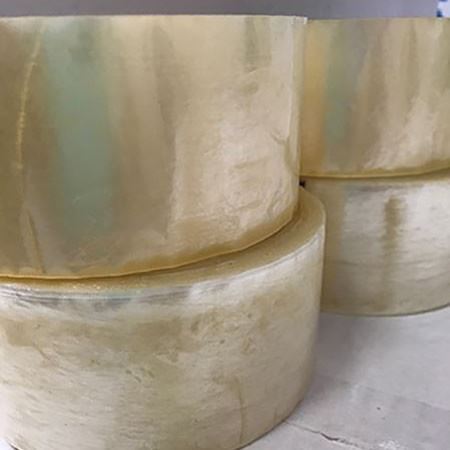 Hot Melt Tape
Economy Grade (1.6 mil) - Designed for short term use and lightweight boxes. Agressive instant adhesion.
Performance Grade (1.9 mil ) - Hand and machine sealing tape. Closure of medium weight boxes, and agressive instant adhesion. Contact us for custom widths and lengths!
High Performance Grade (2.5 mil) - Hand sealer tape for high density and high value cartons. We offer custom lengths and widths for machine rolls.
Item
Number
Size
Thickness
Color
Rolls Per
Case
Price per Case
Add to
Cart
1
3
5+
82HM222
2" x 55 yd
1.6 Mil
Clear
36
$51.00
$50.00
$49.00
82HM223
1.9 Mil
Clear
36
59.00
58.00
56.00
82HM224
1.9 Mil
Tan
36
59.00
58.00
56.00
82HM225
2" x 110 yd
1.65 Mil
Clear
36
85.00
83.00
81.00
82HM226
1.65 Mil
Tan
36
85.00
83.00
81.00
82HM227
1.9 Mil
Clear
36
105.00
102.00
100.00
82HM228
1.9 Mil
Tan
36
105.00
102.00
100.00
82HM229
2.5 Mil
Clear
36
135.00
132.00
129.00
82HM240
1.8 Mil
Clear
36
106.00
103.00
101.00
82HM230
2" x 1000 yd
1.6 Mil
Clear
6
145.00
141.00
137.00
82HM231
1.9 Mil
Clear
6
168.00
164.00
160.00
82HM241
2.0 Mil
Clear
6
114.00
111.00
108.00
82HM232
2" x 1500 yd
1.9 Mil
Clear
6
252.00
246.00
239.00
82HM234
3" x 110 yd
1.6 Mil
Clear
24
69.00
67.00
66.00
82HM235
1.9 Mil
Clear
24
105.00
102.00
100.00
82HM236
1.9 Mil
Tan
24
105.00
102.00
100.00
82HM237
2.5 Mil
Clear
24
135.00
132.00
129.00
82HM238
3" x 1000 yd
1.9 Mil
Clear
4
168.00
164.00
160.00