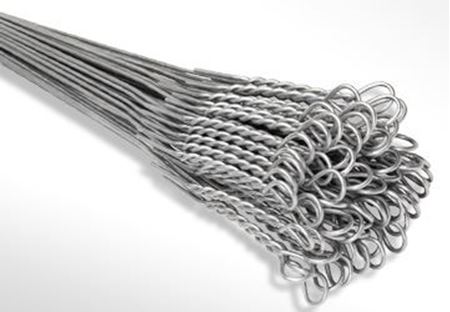 Hand Tie Baling Wire
Baling wire is convenient and easy to use for holding together large bundles of cardboard, lumber or any bulky packages. Bale wire is versatile and can be used on many applications, and is commonly used in the recycling industry. We offer an extensive selection of sizes and are confident you'll find what fits your needs!
Please call us for any questions you may have. We are here to help.
11 Gauge
Item
Number
Gauge
Length
Break
Strength
Ties Per
Coil
Lbs. Per
Coil
Price per Bundle
Add to
Cart
1
2
6+
27BA222
11
21'
375 lbs.
125
103
$238.00
$226.00
$208.00
27BA223
11
20'
375 lbs.
125
99
222.00
211.00
194.00
27BA224
11
19'
375 lbs.
125
94
216.00
205.00
189.00
27BA225
11
18'
375 lbs.
125
89
206.00
196.00
181.00
27BA226
11
16'6"
375 lbs.
125
82
188.00
179.00
164.00
27BA227
11
15'
375 lbs.
125
74
173.00
164.00
151.00
27BA228
11
14'
375 lbs.
125
70
162.00
153.00
141.00
12 Gauge
Item
Number
Gauge
Length
Break
Strength
Ties Per
Coil
Lbs. Per
Coil
Price per Bundle
Add to
Cart
1
2
6+
27BA229
12
21'
375 lbs.
125
79
$183.00
$173.00
$160.00
27BA230
12
20'
375 lbs.
125
76
175.00
166.00
153.00
27BA231
12
18'
375 lbs.
125
68
157.00
149.00
137.00
27BA232
12
16'
375 lbs.
125
61
140.00
133.00
122.00
27BA233
12
15'
375 lbs.
125
57
133.00
126.00
116.00
27BA234
12
14' 6"
375 lbs.
125
55
127.00
121.00
111.00
27BA235
12
14'
375 lbs.
125
53
123.00
117.00
107.00
27BA236
12
13'
375 lbs.
125
50
115.00
110.00
101.00
27BA237
12
12' 6"
375 lbs.
125
48
110.00
105.00
96.00
27BA238
12
12'
375 lbs.
125
92
107.00
101.00
93.00
13 Gauge
Item
Number
Gauge
Length
Break
Strength
Ties Per
Coil
Lbs. Per
Coil
Price per Bundle
Add to
Cart
1
2
6+
27BA239
13
19'
375 lbs.
250
92
$254.00
$241.00
$222.00
27BA242
13
16'
375 lbs.
250
92
214.00
204.00
188.00
27BA243
13
15'
375 lbs.
250
86
201.00
191.00
176.00
27BA244
13
14'
375 lbs.
250
80
174.00
165.00
152.00
27BA245
13
13'
375 lbs.
250
75
175.00
166.00
153.00
27BA246
13
12'6"
375 lbs.
250
72
169.00
160.00
148.00
14 Gauge
Item
Number
Gauge
Length
Break
Strength
Ties Per
Coil
Lbs. Per
Coil
Price per Bundle
Add to
Cart
1
2
6+
27BA247
14
14'
375 lbs.
250
61
$134.00
$127.00
$117.00
27BA248
14
14' 6"
375 lbs.
250
64
144.00
137.00
126.00
27BA249
14
13' 6"
375 lbs.
250
59
149.00
141.00
130.00
27BA252
14
12"
375 lbs.
250
53
133.00
126.00
116.00
27BA253
14
13'
375 lbs.
250
57
134.00
128.00
118.00
27BA254
14
11'
375 lbs.
250
49
114.00
109.00
100.00
15 Gauge
Item
Number
Gauge
Length
Break
Strength
Ties Per
Coil
Lbs. Per
Coil
Price per Bundle
Add to
Cart
1
2
6+
27BA255
15
9'
375 lbs.
250
32.49
$95.00
$90.00
$83.00