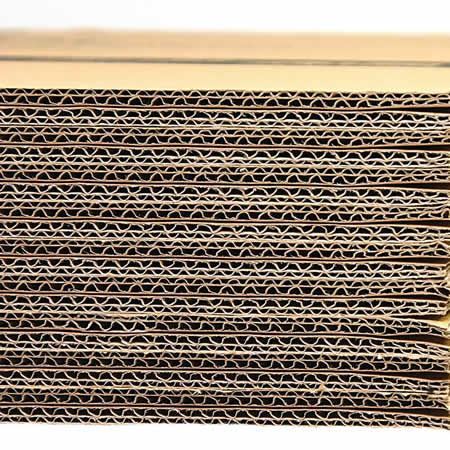 Currogated Cushioning Pads
MLR offers a large selection of corrugated pads that will help protect any size shipment. Our small corrugated pads can easily be layered between thinner items and products to protect even your smallest possesions. Our larger corrugated pads can be used to provide layers of protection or separation between items on pallets.
Regardless of what you are shipping we have all the packaging supplies needed to create a secure presenatation.
Give us a call should you have any questions!
Item
Number
Sheet Size
L x W
Quantity
Per Bundle
Price per Bundle
Add to
Cart
1
3
5+
96CP222
7" x 5"
100
$46.00
$40.00
$35.00
96CP223
8" x 8"
100
58.00
51.00
44.00
96CP224
8" x 10"
100
62.00
55.00
47.00
96CP225
8-1/2" x 11"
100
66.00
58.00
50.00
96CP226
10" x 10"
100
62.00
55.00
47.00
96CP227
12" x 9"
100
71.00
62.00
54.00
96CP228
12" x 12"
100
75.00
66.00
57.00
96CP229
12-1/2" x 12-1/2"
100
108.00
95.00
82.00
96CP230
14" x 11"
50
46.00
40.00
35.00
96CP231
14" x 14"
50
48.00
42.00
36.00
96CP232
16" x 16"
50
62.00
55.00
47.00
96CP233
18" x 18"
50
83.00
73.00
63.00
96CP234
20" x 16"
50
85.00
75.00
65.00
96CP235
20" x 20"
50
112.00
99.00
85.00
96CP236
20" x 72"
20
116.00
102.00
88.00
96CP237
24" x 18"
50
100.00
88.00
76.00
96CP238
24" x 36"
30
86.00
76.00
65.00
96CP239
24" x 48"
25
80.00
70.00
61.00
96CP240
24" x 72"
20
122.00
107.00
93.00
96CP241
36" x 36"
20
85.00
74.00
64.00
96CP242
36" x 48"
20
87.00
77.00
66.00
96CP243
36" x 72"
300
2,191.00
1,927.00
1,663.00
96CP244
36" x 72"
20
139.00
123.00
106.00
96CP245
36" x 120"
300
2,565.00
2,256.00
1,947.00
96CP246
40" x 48"
300
1,195.00
1,051.00
907.00
96CP247
40" x 48"
15
76.00
67.00
58.00
96CP248
40" x 48"
300
903.00
794.00
685.00
96CP249
42 x 32"
300
610.00
537.00
463.00
96CP250
42 x 42"
300
822.00
723.00
624.00
96CP251
42 x 42"
300
1,121.00
986.00
851.00
96CP252
48" x 48"
10
73.00
64.00
55.00
96CP253
48" x 72"
10
105.00
92.00
80.00
96CP254
48" x 96"
160
4,070.00
3,580.00
3,090.00
96CP255
48" x 96"
300
2,068.00
1,819.00
1,570.00
96CP256
48" x 96"
300
1,698.00
1,494.00
1,289.00
96CP259
48" x 96" 350 DW
10
265.00
233.00
201.00
96CP257
48 x 120"
300
3,274.00
2,880.00
2,485.00
96CP258
48 x 144"
300
3,371.00
2,965.00
2,559.00